Black Forest Cake
Description
Typically, Black Forest cake consists of several layers of chocolate cake with whipped cream and cherries between each layer. Then the cake is decorated with additional whipped cream, cherries and chocolate shavings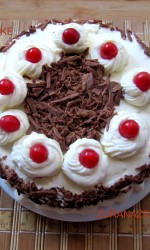 Author: Zurana Masud
Recipe type: Cake, Dessert
Cuisine: World
Serves: 5 people
Prep Time : 15 minutes. Cook Time : 50 minutes
Instructions
Cake Preparation:
Preheat your oven to 180 c. Grease a 9" round cake pan with oil or butter and line the bottom of the pan with parchment paper.
Mix dry ingredients - flour, salt, baking powder, baking soda, cocoa powder and mix with a hand mixture.
Whisk egg with a electric bitter or hand bitter. Add sugar and continue beating.
Add vanilla, milk and oil. Whisk until well combined.
Now add dry mixture and gently mix with a spatula.
Pour the mixture into baking pan and bake for 55-60 minutes or until toothpick inserted into the center comes out clean.
Remove from oven and let it totally cool.
For whipped cream frosting:
In a mixing bowl place the whipping cream, vanilla essence and sugar. Stir to combine.
Cover and chilled the mixture for 1 hour in the refrigerator.
After one hour beat the mixture just until thick cream frosting.
For sugar syrup:
In a medium saucepan combine sugar, vanilla essence  and water. Bring to a boil, stirring, until sugar has dissolved. Allow to cool.
For making "Black Forest":
Using a sharp knife cut the cake into two layers. Grease your serving plate with butter. Turn over the top layer of the cake and place on your serving plate.
Brush the cake layer with sugar syrup.
Take one cup of whipped cream and spread on the moist cake layer.
Brush the sugar sugar on second cream layer. Place the cut side down on top of the cream.
Reserve the half cup of cream in pastry bag for decorating.
Spread remaining cream over top and sides of cake.
Pastry bag fitted with star tip and pipe rosettes on top of cake. Decorate with fresh cherries and shaved chocolate.
Step by Step Picture:
Similar Cake Recipes:
Chocolate Cupcakes with Italian Buttercream Frosting
Print