Prawn Fried Rice
Description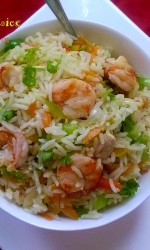 Author: Zurana
Recipe type: Main
Cuisine: Chinese
Serves: 4 people
Prep Time : 15 minutes. Cook Time : 1O minutes
Instructions
Preparation:
With a paper towels dry pat prawns.
Heat 1 tablespoon oil in a pen deep frying pan , add the prawns and cook until they turn pink.
Then set aside.
Method:
Heat remaining oil. Add chopped onions and ginger- garlic and stir-fry over medium heat for 1 minute, next add the sweet  chili sauce, dark soy sauce, fish sauce and lime juice.
Add mix vegetable and return the prawns to the fry pan.
Add the cooked rice and mix well with the sauces.
Continue stir-frying until the rice, prawns and vegetables  are well combined.
Stir-fry for another 1 minute.
Transfer to a serving dish and serve hot.
Similar Recipes:
Mix Vegetable Chinese Fried Rice
Print