Easy Vegetable Fried Rice
Description
Easy Vegetable Fried Rice
This one of my easy recipe with one day old steamed rice. So let's try at home with your extra rice in your refrigerator.
Easy Vegetable Fried Rice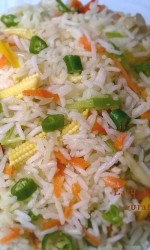 An easy and delicious fried rice that will go perfectly to any Chinese dish!
Author: Zurana Masud
Recipe type: Main
Cuisine: Chinese
Serves: 3 people
Prep Time : 10 minutes. Cook Time : 10 minutes
Instructions
Preparation:
Heat a large fry pan to medium heat.
Pour the oil, add onion, garlic, vegetable, green chili, pepper, salt and fry until tender.
Slide the onion and vegetable to the side, and pour the beaten eggs onto the other side.
Using a spatula or spoon, scramble the eggs.
Once cooked, mix the eggs with the vegetable mix.
Add the rice to the vegetable and egg mixture.
Pour the soy sauce on top.
Stir and fry the rice and veggie mixture until heated through and combined.
Serve hot.
Print