Narikel Naru-Coconut Laddu
Description
Narikel Naru-Coconut Laddu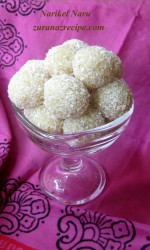 Author: Zurana Masud
Recipe type: Dessert
Cuisine: Bangladeshi
Serves: 6 people
Prep Time : 5 minutes. Cook Time : 7-8 minutes
Instructions
Method:
Heat 2 teaspoon butter or ghee in a nonstick pan. Add grated fresh coconut and saute for 3-4 minutes on low flame. Add cinnamon and cardamon.
Add 1/2 tin of condensed milk, milk powder, salt and keep stirring constantly on low flame till it leaves the sides of the pan, approx 7-8 minutes
Turn off heat and cool. Remove whole cinnamon and cardamon. Grease you hand with remaining ghee, make small coconut balls and roll in dessicated coconut.
Store the coconut naru  in an air tight container and place in fridge for longer shelf life. At room temperature it stays fresh up to 2-3 days.
Note
If you want you can add roasted nuts and dry fruits to the coconut laddo.
Step by Step Picture:
Similar Recipes:
Print